Universal Push Button or Panic Button IoT Solution
Portable, lightweight and functional, this solution allows you to report events through its integrated push button, via the wireless network.
Exolinked universal push button solution
The universal push button is optimally suited for implementation in a variety of areas, both operational and safety.
This small and efficient device allows to report events by means of its integrated push button, through the wireless network for which it has been configured.
Portable, light and functional, it will allow you or your company to solve a variety of needs in a simple and effective way.
Through this portable unit, operational functions can be established in several industries, adding ease to trigger events such as: turning on or off remote equipment, opening control, implementation as a surveillance point in security rounds, as well as being used, in adverse situations, as a panic button.
Its functionality includes the possibility of integrating it into the care of the elderly or people with some kind of limitation, not only providing assistance through a push button, but also with additional internal technology, which can detect sudden changes in position, such as a fall, and automatically report it.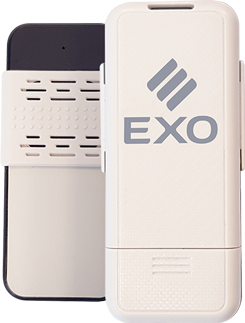 For the case of business that requires it, the device can be modified and adapted to an operating environment, changing its housing or integrating it into another more robust cabinet, which provides better resistance to wear or extreme use.
This solution is integrated into a backend in the cloud plus web or mobile applications, depending on the operational needs of the case.
Portable and lightweight case (less than 100 grams).
Sliding tray that covers the button preventing false events.
Wide range radio frequency transmission.
Multi-coloured light, indicating the operating status.
Commercial battery, interchangeable, with an average life of two years.
Possibility of integrating additional sensors.
Security patrols and checkpoints
General technical-operational services
Notification of stock replenishment in retail chains
... among countless other uses
Brochure Universal push button
Download the technical details:
Get the right solution for your business
Our team will evaluate the best alternative to boost your business with tailor-made IoT solutions.