Smart private parking IoT solution
Improves the dynamics of ingress, egress and vehicle management in private spaces.
Exolinked smart private parking solution
Our intelligent private parking solution is completely versatile and allows to significantly improve the dynamics of entry, exit and vehicle management in private spaces.
Designed as an agnostic solution, it is suitable for temporary parking spaces, such as shopping malls, garages or private companies, as well as for corporate areas oriented to vehicle logistics.
Efficiently manageall vehicles entering and exiting a lot or parking lot, keep your customers or business partners informed of available space and/or estimated delays.
Apply a signage system that allows you to quickly arrange your parking area and simplify access control through different digital solutions.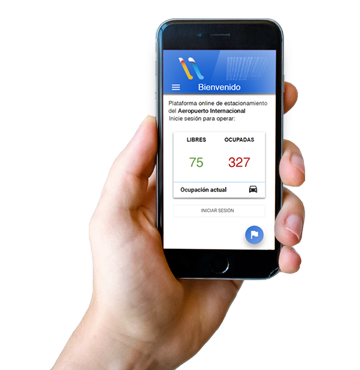 We have solutions completely adaptable to every need, being able to integrate a light signage system, a guidance system using mobile software, sensors for parking space reservation, informative digital signage, automated or digital payment terminals, detection of patents and automatic electronic barriers, are some of the options we have to cover all the needs that your project requires.
Mechanical sensor for space reserve.
Aerial sensors with ultrasound.
Signaling system by means of lighting, combined with sensors.
Informativedigital signage.
Self-service registration and paymentterminals.
Magnetometer sensors for ferrous mass detection.
Mobile application for parking reservation, registration and payment.
Electronic barriers for local and remote opening.
Video cameras with patent recognition.
Private garages and parking lots
Cargo and passenger vehicle parking lots
Parking in supermarkets and hypermarkets
Private companies and corporate buildings
Shopping tours and shopping malls
Brochure Intelligent private parking solution
Download the technical details:
Get the right solution for your business
Our team will evaluate the best alternative to boost your business with tailor-made IoT solutions.