Smart private parking IoT solution
Improves the dynamics of ingress, egress and vehicle management in private spaces.
Innovation in Intelligent Private Parking
Our intelligent private parking solution is highly versatile and offers a significant improvement in the dynamics of vehicle entry, exit and management in private environments.
Designed as an agnostic solution agnostic An "agnostic solution" is a neutral approach that is not tied to a specific platform or system.The "agnostic solution" is perfectly adapted to spaces dedicated to temporary parking, shopping malls, garages, private companies and corporate areas focused on vehicle logistics.
We offer solutions fully adaptable to your individual needs.
Our options include light signaling systems , mobile software guidance, sensors for space reservation, informative digital signage, automated or digital payment terminals, license plate detection and automatic electronic barriers.
Components for your intelligent private parking project:
These are some of the options available to meet all your project requirements.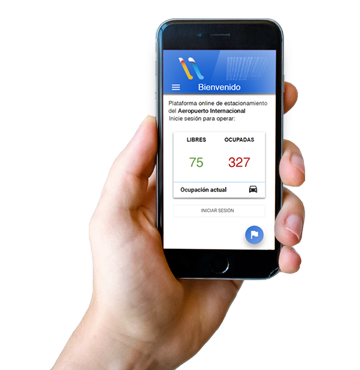 Our intelligent private parking solution stands out for its automated payment method, versatile access control integration, customizable software, efficient equipment telemetry and local support.
It also offers scalability for future growth.
It is not necessary to issue PHYSICAL cards to users.
It offers an automated payment method.
Integration of pedestrian and vehicular access control.
Proprietary software, customizable and integrable with other systems.
Offers
telemetry
Telemetry is a technology that allows physical quantities to be measured and tracked remotely so that an operator can obtain data from different areas.
of equipment.
Compatible with scalability to other solutions.
Implementation of an intelligent private parking solution for the General Pacheco Regional School.
Brochure Intelligent private parking solution
Download the technical details:
Get the right solution for your business
Our team will evaluate the best alternative to boost your business with tailor-made IoT solutions.